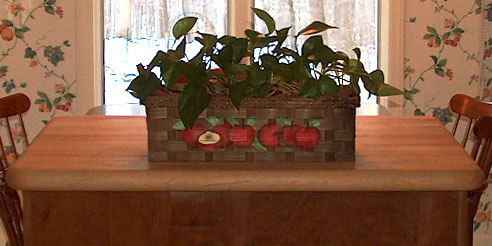 This oil-sealed butcher block countertop is not only an attractive setting for a basket of plants, but it is also a wonderful surface for baking activities. Used on top of an island in this kitchen, its dimensions are about 24 inches by 48 inches, which is a nicely sized area to fit baking pans, mixing bowls, and a rolling pin. The smooth surface is easy to clean up, but must occasionally have more oil rubbed into it.
---
Link to this photograph:
<a href="https://www.butcher-block-countertops.com/butcher-block.htm" >Butcher Block Top</a>

Copyright © 2007-2023 Butcher-Block-Countertops.com.
All rights reserved.

Butcher Block Countertop and House Plant Basket